MSRP: $1049
HomeCare units are available for in-store purchases only. HomeCare models can be ordered by calling 707.224.2922 or by emailing: napasewandvac@gmail.com. Call the store for availability and in-store pricing.
Different homes and lifestyles require individual solutions. Miele aims to meet your personal needs for room hygiene as perfectly as possible. Which is why Miele offers a variety of vacuum cleaners with special features.
Features include: 5 year bumper to bumper warranty.
SEB 236 Powerbrush: 5 selection for low to high pile carpet and hard floors

Crevice tool, dusting brush, and upholstery tool

Combination floor tool

Exclusive additional HomeCare tools
The Blizzard HomeCare is available through your local Independent Miele HomeCare dealer only.
Miele Blizzard Review: https://blog.designerappliances.com/miele-blizzard-cx1-vacuum-review/
*Visit Miele's HomeCare Website for HomeCare Published Prices and the Miele Company Product Overview.
BLIZZARD Vortex technology: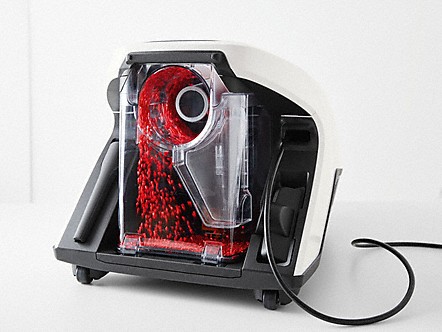 Best suction results via very high air throughput
The Vortex technology produces an enormous flow velocity of more than 62 miles/h. Combined with the specially designed floorhead and the aerodynamic air flow, the bagless vacuum cleaner achieves first-class cleaning performance. This ensures that coarse soiling and fine dust are separated in an outstanding manner. The coarse soiling lands in the transparent dust container, the fine dust in a separate container with a fine dust filter.
How can an ingenious cyclone fight dust?
Blizzard CX1 is an ingenious cyclone bagless vacuum cleaner. Thanks to its optimal air flow, it achieves an extremely high degree of air throughput so that dust doesn't have a chance. Miele Vortex technology guarantees high performance​.
Hygienic Dirt Cup Dispensing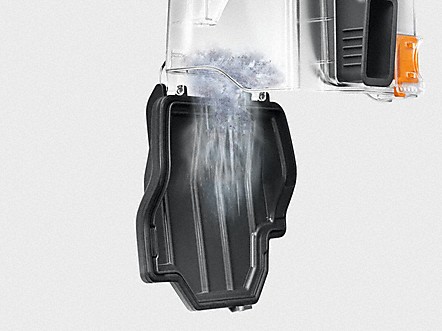 Hygienic emptying
Due to the high air throughput of the specially designed motor, the extremely high flow velocity ensures outstanding separation of coarse soil and fine dust in different containers. The containers are emptied completely through the bottom with a minimum of dust escaping.
How hygienic is it without a bag?
Hygienic emptying. Unlike other bagless systems, coarse dust is separated from fine dust. The fine dust is then collected in a separate container with the help of the Gore® CleanStream® fine dust filter. Keeps the fine dust contained when dumping.
Gore® CleanStream® fine dust filter
The innovative principle of separating coarse debris into a transparent dust container and fine dust into a different container with a separate fine filter makes emptying the Blizzard particularly hygienic. When compared to other bagless systems, the Miele Blizzard excels with significantly less fine dust escaping during emptying.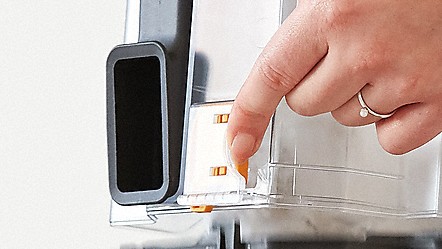 Click2open
The dust container can be easily removed from the appliance by lifting it out by its handle. With one click on the "empty" button, the container opens and all the dust drops into the bin.
ComfortClean
Special sensors monitor the Gore® CleanStream® fine-dust filter. The ComfortClean function automatically cleans the fine dust filter as required. After only a few seconds, the Blizzard CX1 is ready for use again and keeps on vacuuming powerfully.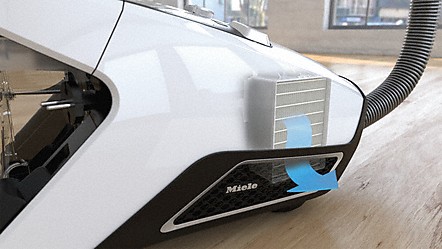 Exhaust filter
The exhaust filter in the Miele Blizzard CX1 saves time and costs. It is absolutely maintenance-free and of such high quality that it lasts for the entire life of the appliance. It never needs to be changed or cleaned.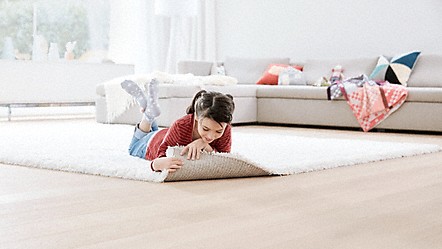 Hygiene Lifetime Filter
The Hygiene Lifetime filter features very high dust retention capacity and collects 99.98 % of all fine particles. This is the level of hygienic cleanliness you should expect to have in the home.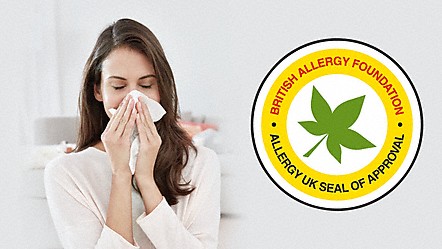 HEPA Lifetime filter
Thanks to the HEPA 13 Lifetime filter, the system retains even the smallest of particles such as fine dust and allergens to 99.999 %. This excellent filtration performance has been endorsed by the medical organization Allergy UK and has been certified as being suitable for allergy sufferers. The Miele Blizzard CX1 has been awarded the "Seal of Approval" for its overall performance in dust retention.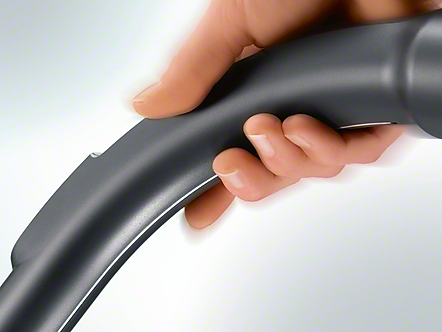 Handle have an anti-static conductor that works like a lightning conductor.
All Miele canister vacuum cleaners have a small metal strip integrated into the handle, which works like a lightning conductor. This prevents static discharge between appliance and user.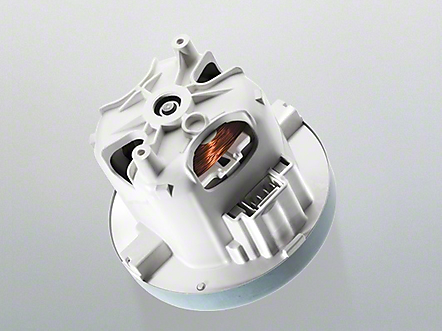 Gentle-start motor that is easy on the power supply.
The selected power level is ramped up slowly when Miele vacuum cleaners are switched on. This protects the mains from overload.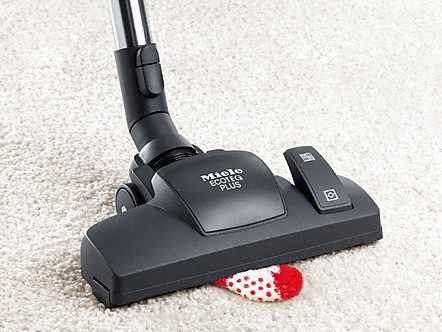 Reliable protection against overheating.
A temperature limiter protects all Miele Canister vacuum cleaners from overheating. Should the air passage become blocked – for instance by vacuuming up bulky particles – the motor will automatically shut off for safety's sake. After the cause of the shut-off has been eliminated and the appliance has cooled down, it is ready again for service.