Miele HomeCare Vacuum Cleaners
Miele HomeCare Vacuum Cleaners
HomeCare models can be ordered by calling 707.224.2922 or by emailing: napasewandvac@gmail.com. Call the store for availability and in-store pricing.
Miele product purchase registration:
https://www.mieleusa.com/domestic/product-registration-3297.htm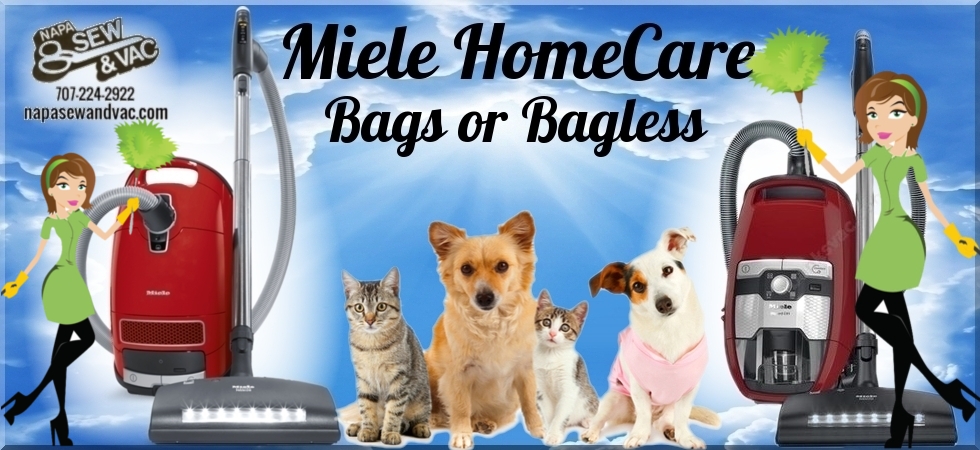 Miele has prepared product training for customers and all interested prospects. This video series will provide most of the information you'll need to know to make an educated buying decision. These videos will also be useful for training your housekeeping staff: https://www.mieleusa.com/domestic/instructional-vacuum-videos-3884.htm#p3886
Visit the Miele HomeCare Website to review MSRP Pricing and Miele Company details. (Copy and paste link to your browser: http://homecare.mieleusa.com/.)

Visit your local Miele HomeCare Dealer for pricing and a free demonstration. Call us for details: 707.224.2922 or email us: napasewandvac@gmail.com.
All Miele HomeCare Model are equipped with a 5 year bumper to bumper warranty and a 10 year motor warranty.
7 Reasons to shop at a Miele HomeCare Dealer
1 -

Feature enhanced products

2 -

Individualized, unrushed attention and service

3 -

Personalized consultation designed to ensure you select the best model for your needs

4 -

Well-stocked at all times

5 -

Clean well-appointed showrooms

6 -

Hands-on demonstrations

7 -

Professional, expert service after the sale