Available in Red, White, or Bronze.
✓ 30 day in-home trial
✓ Lifetime Perpetual Warranty
✓ FDA-Cleared Class II Medical Device

✓ Assembled in our Ohio manufacturing facility

✓ For small and large spaces up to 700 sq. ft.

✓ Eliminates & destroys the SARS-CoV-2 virus & viruses like it

✓ Captures 99.99% of airborne particles down to 0.1 microns
It Matters. For over 20 years, the Defender air purifier has been an FDA-Cleared Class II Medical Device.
USA Assembled. From the Ohio, USA manufacturing facility directly to you.
Established Dependability. Millions of satisfied customers worldwide have trusted FilterQueen for nearly 100 years.
The Defender includes free shipping anywhere in the USA. Order today and start enjoying fresh air.
We offer a LIFETIME perpetual warranty for the Defender Air Purifier. Purchase and replace your Medi-Filter Cartridge each year and enjoy a lifetime of clean, purified air.
Over 90 Years In Business
In the last few years, other companies have tried to take advantage of the urgency to protect the indoor air. Healthy indoor air quality has been our way of life since 1928.
The lower half of the Defender pulls air in from every angle, no matter which way the machine is facing.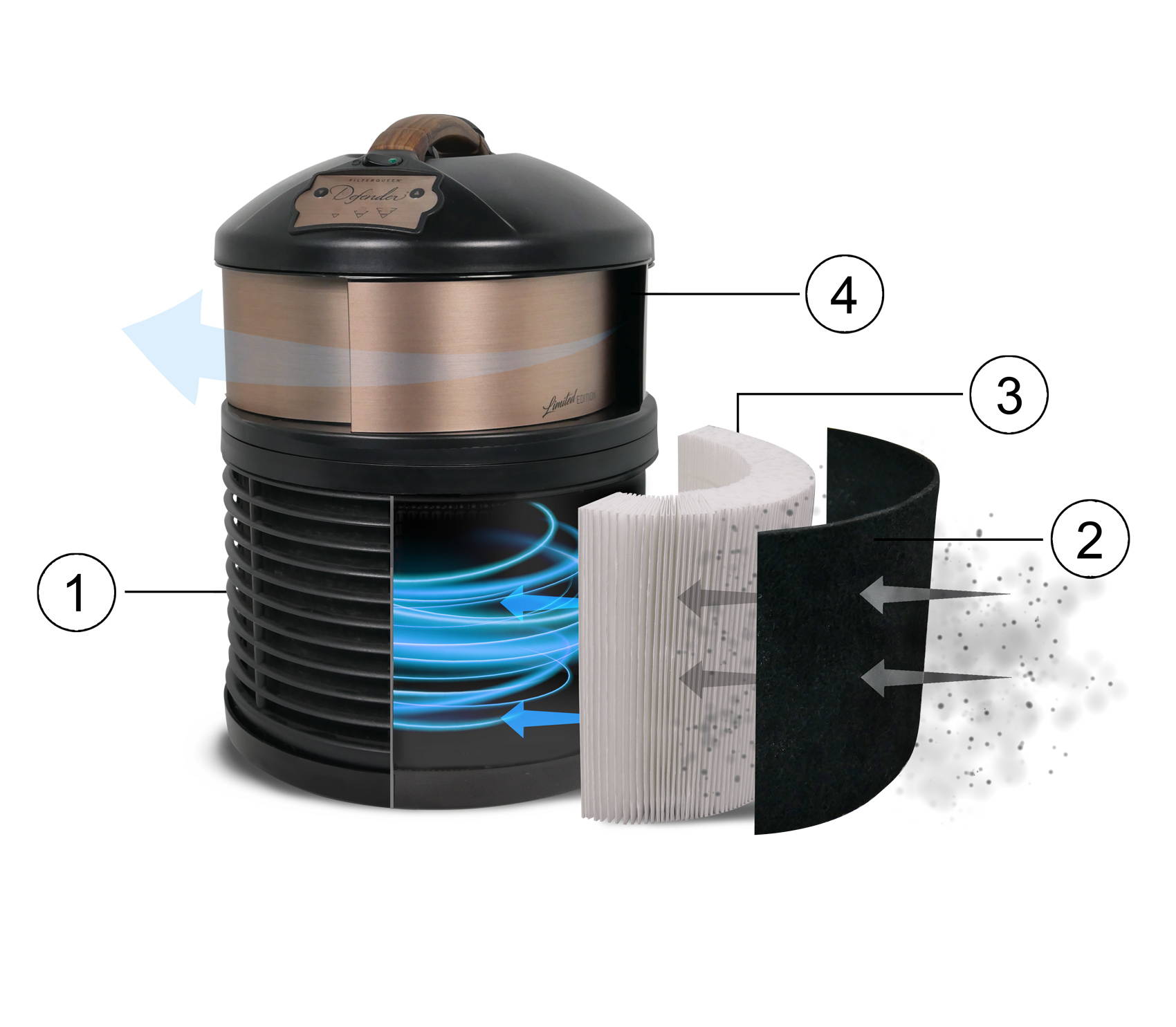 Meets the following EPA guidelines:
Ozone is harmful to the environment.
UV light is ineffective, costly and dangerous.
Effective filtration capability
3x better-than-HEPA standard.
Polluted air is pulled in from all sides through both filters. Secure Seal Technology ensures that pure, clean air returns to the room.
Moves easily from room to room, providing a healthier home, work, college, or travel environment.
Enjoy a significant reduction in airborne pollutants and dusts, allowing you to breathe easier and get a better night's sleep.
Help keep your family healthy with purified air.
Provides three times better-than-HEPA filtration to remove harmful airborne pollutants, such as dust mites, mold spores, viruses, bacteria, pet dander, airborne chemicals and more.
Filter change frequency – 12 months
Made with HEGA (High Efficiency Gas Absorption) material, which is highly effective at removing harmful pollutants and odors, such as VOCs, cigarette smoke, and more.
Filter change frequency – 6 months